Let's get right into this analysis then, and see what we find:
NYI has been playing extremely hard recently based on how they've performed as underdogs.
Normally we should heed that and suspect a possible upset.
But upon closer examination…when you are 1-3 against the likes of FLA, WPG, EDM, CGY, that's speaking volumes. Regardless of how close the games were…your club must have issues.
SJS, on the other hand, has won 4 straight and all of those were against play-off teams and 3 of those were won by the spread!
When we look at SJS vs NYI historically, SJS is 6-1 @ NYI since '96.
So these teams don't play each other enough to understand any real historical context.
So if we can't find any historical context with these teams on the versus, maybe there are some outstanding pointers that we can find in the Raymond Report.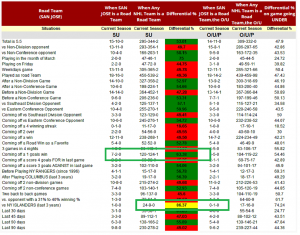 As we see, all teams do extremely well when playing @NYI and it jumps right out at us.
Thinking back to yesterday, there is always something to be said when teams do extraordinarily well, or extraordinarily poor, when playing @away/home; so, if we're looking for a quick summary with a fountain of information at our fingertips, then the Raymond Report is the spot to look. The Raymond Report contrasts how the league scores in certain areas, and how whatever team we're looking at stacks up against that, (differential%).
With that said…the report shows that SJS is 1-3-0 vs home opponents with a 31-40% winning%.
That stat should cause panic because it means, "the worse the opponent is, the worse that SJS plays".
So then something we should also think about is the strong PVI indication against SJS:
LEAGUE :NHL
DATE :2014-03-14
Time
Teams
SU-L3-Record
Value
Season SU Record
Value
SU Result
W-L
%
W-L
%
18:05:00
SAN JOSENY ISLANDERS
3 – 01 – 2
066.67
43 – 2425 – 42
35.8262.69

0.18

0.65
We can see that the PVI here states that when we compare SJS's L3G with their season record, that they are way above par in their last 3 games (100%). Naturally, since they've won 64% of their season games, compared to the 100% over the last 3 games, it's clear to see that across these L3G they're above their norm. For this reason, we are wise to consider that "what goes up, must come down", and we should factor that into our analysis. Considering the quality of teams that SJS has been walking over lately, compared to NYI's slack performance of late, we should still consider SJS despite the PVI warning…but be warned.
So let's peruse the 80% Club for Blue Star stats….let's look for some convincing stats that support this waning SJS pick here…
Team System Trends
Random Team System Trends
Smart Stats System Trends
Where is San Jose? So another point that troubles us about the SJS pick here today is the fact that there are no blue stars to support their case. Considering they're always a top 5 team, the simplest answer is that SJS doesn't play their best hockey in this position.
But now look at this! Changing gears for a minute, for all of you total bettors out there:
6 Blue Stars say "UNDER", 0 Blue Stars say "OVER".
I find that's ATSSTATS in a nutshell. I'll be looking for some quality stats, I find them, but before I can even leave the page, I find stats that are even better still, without even trying,  accidentally.
Grand Salami u44.5 anyone?
So that's another point about the 80% club. It's objectivity.
When we look at the 80% Club Smart Stats System, we find several underdogs that have blue stars WTS, but also they have green stars SU. Talk about value! NSH, WPG, VAN. Which of those 3 are hot lately? Which of those are playing opposition that's in a slump?
Also to all you fans of SU Streakcatcher.com … what better way to find your "dog of the day?"
If the versatility of ATSSTATS doesn't blow our mind guys…then nothing will.
Here's the Top 20 Trends:
20 Team Trends
The top 20 Trends that helped us so much yesterday are neither here nor there today.
I mean, for all intents and purposes, these stats look deadlocked.
At a glance there is nothing for most people to use from this.
But for people that know what SJS -165 and NYI +152 means…this begins to paint a crystal clear picture that screams "underdog value"!
So again, with ATSSTATS, as long as we sit down with an open mind, a little bit of time, and use some interpretation, in the long run, we won't go wrong.
So to wrap this up, for the exact same reason as we didn't pick PHX to upset yesterday, we won't be picking NYI to upset today:
–Their record at home is irreconcilable, much less against a SJS squad that just trounced 4 PO teams in a row, and 3 of them ATS.
-They've been steady losing to bottom 10 teams, much less the likes of SJS.
– Even though we found value in the 20 Trend section, New York home games are a terrible place to find value. *Visitors playing @NY, across any sport, as a rule, have bonus value.*
But with that said…
We also discovered a few troubling issues with setting full confidence in SJS here today:
–Their performance vs the worst teams in the league, when playing as visitors, can't be explained nor ignored.
-The PVI rating gave us a small warning against SJS and spoke for NYI.
-They didn't have any blue stars or Top 20 stats…which indicates that something about this position is not in their wheel house.
– NYI is a MadDog in the 2H of the season. Their consistent close games as underdogs prove that the whole team is playing in a way that screams, "please don't cut me from the team coach!"
– NYI are up against a top 5 team tonight for one of the last times this season.You KNOW a few of them are pretending that this is the Stanley Cup. Last chance to impress!
At the end of the day? I think that we found some easier questions to answer, for instance:
– Why should the Grand Salami go u44.5 today?
– Smart Stat System Trends prove that there are 3 underdogs that deserve a closer look. Can we also use ATSSTATS to find out which one of those would be the best pick?
Predictions:
-NHL Grand Salami u44.5 (excellent value)
-San Jose to win 4-2. (little to no value)
Good luck to those of you reviewing one of the 3 dogs and placing your pick at Streakcatcher.com!