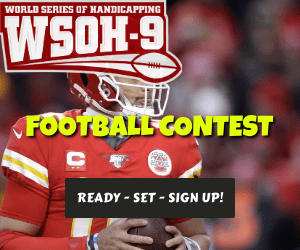 By Des Boodam
Yessssss!!! Week one has come and gone, and we are one for one in cash games despite Matt Stafford being a fantasy caveman and throwing a four INTs… FOUR!!!!  I was embarrassed with that number, and that choice, but all the numbers told me that Stafford was a good cash game option.
That's the thing though, I'm going to play 90% of my roster based on the numbers, and go with my gut maybe for 1-2 roster spots.  So when something goes awry, it's because there's a statistical anomaly.  But where's the fun it that you ask??
Remember, in cash games, we are going high floor, high ceiling guys at the best price possible to as to extract as much value as possible.  WE WANT VOLUME – via touches… a combination of carries and targets.  Once your cash game lineups make you actual cash – than you can play in some tournaments – and pick whatever quirky combinations your heart desires.
Stack offenses… over pay, choose teams that mirror your opponent's season long line up… so that if he crushes you – you at least get a financial payout.  There's a major strategy here – and it's essential you follow.  Check out my cash line up below.
SEASON RESULTS
WEEK 1 – 149.34 points – EASY MONEY – CASHED😊
QUARTERBACK – Drew Brees
By now Drew Brees playing at home needs no introduction or justification.  It wasn't his fault the Saints lost last week, and the fantasy world doesn't really care about team wins and losses.  The Cleveland Browns come to town, the same Browns team that at home gave up 335 yards to Big Ben after turning him over five times.  20 points from Brees is all I need, and think I'll get it.  Alex Smith as a bargain option.
RUNNING BACK – Alvin Kamara
Disclaimer – If you go Brees – you will need to go with Christian McCaffery – but if you go Alex Smith, than you can do Kamara.  I do think Kamara right now is the best DFS option you can go with, and a cash game must… but that doesn't mean there's lots of ways to get to the right answer.  James Connor went off against Cleveland and Atlanta who is without two major defensive players gives up the most receptions to RBs making McCaffery a slam dunk
James Connor has to be in the mix, in what could be the highest scoring game this week.  I want some action in this game, and Connor for his $7K price makes a bunch of sense.  Big Ben is a different QB at home, and Connor should get 30 touches again this week.
WIDE RECEIVER – Tyreek Hill
As I mentioned earlier, I want all the pieces I can afford in this game.  I usually don't put two players from the same team on my cash game roster, though I did last week.  Hill will be the only Chief I play in cash – but there's more to come on GPP strategy.
Nelson Agholor is a slot receiver who gets red zone targets.  He's playing a Tampa Bay defense that just got lit up by Michael Thomas and Alvin Kamara.  At $6100 this is a high floor pick that could go off.
Quincy Enunwa – this is my throw away pick, but $5K for 10 targets is pretty good value.  An early Sam Darnold favorite, I love the deep ball targets Enunwa is getting as well.
TIGHT END – Geroge Kittle
Another 10 targets from Jimmy G in week one… I think this week against the Lions, the 49er offense will be a bit more efficient… they did go against arguably the best defense in the league in week 1.  Kittle has been the most productive TE in fantasy in the last 5 weeks dating back to Week 15 of last year.
FLEX – Melvin Gordon
When I saw that I could afford Melvin Gordon – I jumped on it.  He is on the road – but the opposing RBs have carved up the Bills recently.  Gordon is a good candidate to get 150 total yards from scrimmage.
DEFENSE – New York Jets
I'm not expecting two pick sixes this week, but we know the Jets can play and if the offense is putting the heat on, the defense will benefit.  Miami as the opponent makes this pick even more attractive.  Miami didn't exactly carve up Tennessee, so I have high hopes that the Jets will pay the bills in Week 2.