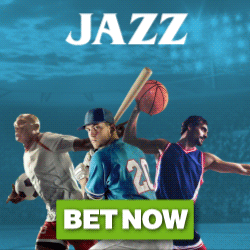 Sports Handicapper Ron Raymond didn't disappoint his clients on Wednesday with his Tampa Bay Downs selections, as Ron went 8 for 8 with his TOP 3 PICKS for being in the money (ITM$) at the Downs in Tampa Bay Florida for Wednesday, April 8th, 2020.
Ron started the day with a nice $4.40 winner, as the #6 horse "Segismundo" with Daniel Centeno on the ride crossed the line along with the #8 and #2 horse to cash a $12.40 EXACTA and a $43.40 TRIFECTA ticket, as Ron had the 8-6-2 in his TOP 3 picks recommendation.
JOKER'S WILD PICKS DEBUT AT 50%
Today was the day, Ron introduced a new feature called "Jokers Wild Picks" and it was an impressive debut, as Ron's JWP's went 4-4 (50%) on Wednesday, and Ron's Jokers Wild Pick in the 8th race the #3 horse "Clear as Day" with Angel Suarez on the mount, cross the finish line 1st and paid $8.90.
Overall, on the day, Ron won 6 of the 8 races at Tampa Bay Downs on Wednesday with one of his TOP 3 PICKS and earned over $251.50 on the day in payouts, including 4 EXACTA BOX tickets and 1 TRIFECTA ticket.  Since March 18th, Ron Raymond's Tampa Bay Downs picks have earned over $2,672.60 and his TOP 3 picks have been 89.9% in the money!
Get Ron's Gulfstream Park picks for Thursday by signing up for Premium Picks membership here.
| | | | | | | | |
| --- | --- | --- | --- | --- | --- | --- | --- |
| Race 1 – Results: 6-8-2 | RON'S PICKS | WIN | PLACE | SHOW | EXACTA | TRIFECTA | PAYOUTS |
| WIN | 8 | | $2.80 | $2.20 | | | $5.00 |
| PLACE | 6 | $4.40 | $2.60 | $2.10 | | | $9.10 |
| SHOW | 2 | | | $2.40 | | | $2.40 |
| JOKERS WILD | 4 | | | | | | $0.00 |
| EXACTA BOX | | | | | $12.40 | | $12.40 |
| TRIFECTA BOX | | | | | | $43.40 | $43.40 |
| PAYOUT | | | | | | | $72.30 |
| | | $4.40 | $5.40 | $6.70 | | | |
| Race 2 – Results: 11-9-8 | RON'S PICKS | WIN | PLACE | SHOW | EXACTA | TRIFECTA | PAYOUTS |
| WIN | 2 | | | | | | $0.00 |
| PLACE | 9 | | $4.60 | $3.40 | | | $8.00 |
| SHOW | 3 | | | | | | $0.00 |
| JOKERS WILD | 4 | | | | | | $0.00 |
| EXACTA BOX | | | | | | | $0.00 |
| TRIFECTA BOX | | | | | | | $0.00 |
| PAYOUT | | | | | | | $8.00 |
| IN THE MONEY $ | | $0.00 | $4.60 | $3.40 | | | 100% |
| Race 3 – Results: 7-3-9 | RON'S PICKS | WIN | PLACE | SHOW | EXACTA | TRIFECTA | PAYOUTS |
| WIN | 3 | | $3.40 | $2.80 | | | $6.20 |
| PLACE | 7 | $5.20 | $3.40 | $2.80 | | | $11.40 |
| SHOW | 6 | | | | | | $0.00 |
| JOKERS WILD | 1 | | | | | | $0.00 |
| EXACTA BOX | | | | | $20.20 | | $20.20 |
| TRIFECTA BOX | | | | | | | $0.00 |
| PAYOUT | | | | | | | $37.80 |
| IN THE MONEY $ | | $5.20 | $6.80 | $5.60 | | | |
| Race 4 Results: 5-9-3 | RON'S PICKS | WIN | PLACE | SHOW | EXACTA | TRIFECTA | PAYOUTS |
| WIN | 5 | $6.60 | $4.40 | $3.20 | | | $14.20 |
| PLACE | 9 | | $4.40 | $3.60 | | | $8.00 |
| SHOW | 4 | | | | | | $0.00 |
| JOKERS WILD | 6 | | | | | | $0.00 |
| EXACTA BOX | | | | | $31.00 | | $31.00 |
| TRIFECTA BOX | | | | | | | $0.00 |
| PAYOUT | | | | | | | $53.20 |
| IN THE MONEY $ | | $6.60 | $8.80 | $6.80 | | | 100% |
| Race 5 – Results:  6-4-5 | RON'S PICKS | WIN | PLACE | SHOW | EXACTA | TRIFECTA | PAYOUTS |
| WIN | 6 | $3.40 | $3.00 | $2.60 | | | $9.00 |
| PLACE | 8 | | | | | | $0.00 |
| SHOW | 4 | | $6.60 | $4.40 | | | $11.00 |
| JOKERS WILD | 5 | | | | | | $0.00 |
| EXACTA BOX | | | | | $21.80 | | $21.80 |
| TRIFECTA BOX | | | | | | | $0.00 |
| PAYOUT | | | | | | | $41.80 |
| IN THE MONEY $ | | $0.00 | $6.60 | $4.40 | | | |
| Race 6 – Results: 4-5-8 | RON'S PICKS | WIN | PLACE | SHOW | EXACTA | TRIFECTA | PAYOUTS |
| WIN | 6 | | | | | | $0.00 |
| PLACE | 8 | | | $3.40 | | | $3.40 |
| SHOW | 4 | $8.00 | $4.40 | $3.20 | | | $15.60 |
| JOKERS WILD | 5 | | | | | | $0.00 |
| EXACTA BOX | | | | | | | $0.00 |
| TRIFECTA BOX | | | | | | | $0.00 |
| PAYOUT | | | | | | | $19.00 |
| IN THE MONEY $ | | $8.00 | $4.40 | $6.60 | | | 100% |
| Race 7 – Results: 4-9-6 | RON'S PICKS | WIN | PLACE | SHOW | EXACTA | TRIFECTA | PAYOUTS |
| WIN | 7 | | | | | | $0.00 |
| PLACE | 4 | $8.00 | $4.40 | $3.20 | | | $15.60 |
| SHOW | 1 | | | | | | $0.00 |
| JOKERS WILD | 9 | | | | | | $0.00 |
| EXACTA BOX | | | | | | | $0.00 |
| TRIFECTA BOX | | | | | | | $0.00 |
| PAYOUT | | | | | | | $15.60 |
| IN THE MONEY $ | | $8.00 | $4.40 | $3.20 | | | 100% |
| Race 8 – Results: 3-7-1 | RON'S PICKS | WIN | PLACE | SHOW | EXACTA | TRIFECTA | PAYOUTS |
| WIN | 9 | | | | | | $0.00 |
| PLACE | 2 | | | | | | $0.00 |
| SHOW | 1 | | | $3.80 | | | $3.80 |
| JOKERS WILD | 3 | | | | | | $0.00 |
| EXACTA BOX | | | | | | | $0.00 |
| TRIFECTA BOX | | | | | | | $0.00 |
| PAYOUT | | | | | | | $3.80 |
| IN THE MONEY $ | | $0.00 | $0.00 | $3.80 | | | 100% |
| *= BEST BET | | | | | | | |
| $ = LONGSHOT | | | | | | | |