Today's game features the Pittsburgh Pirates (7.0) taking on the Tampa Bay Rays (-235). The Rays are coming off a win in the previous game, with a record of 24-6 and a 74.47% win rate. They will have Shane McClanahan on the mound who has a TR of 6-0 and a 4-1-1 O/U/P record. The Pirates, on the other hand, lost their last game to the Rays, with a record of 20-10 and a 26.67% win rate. They will have Mitch Keller pitching, who has a TR of 6-1 and a 3-3-1 O/U/P record.
Fun Facts:
The Under is 6-18-2 for Pirates when played as Away Team Coming off vs AL EAST Division Opponent Last 10 Years
The Rays are 25-3 SU when played as Home Team Coming off Score 4 Runs FOR in Last Game Last 3 Years
Baseball Prediction (05/03/23)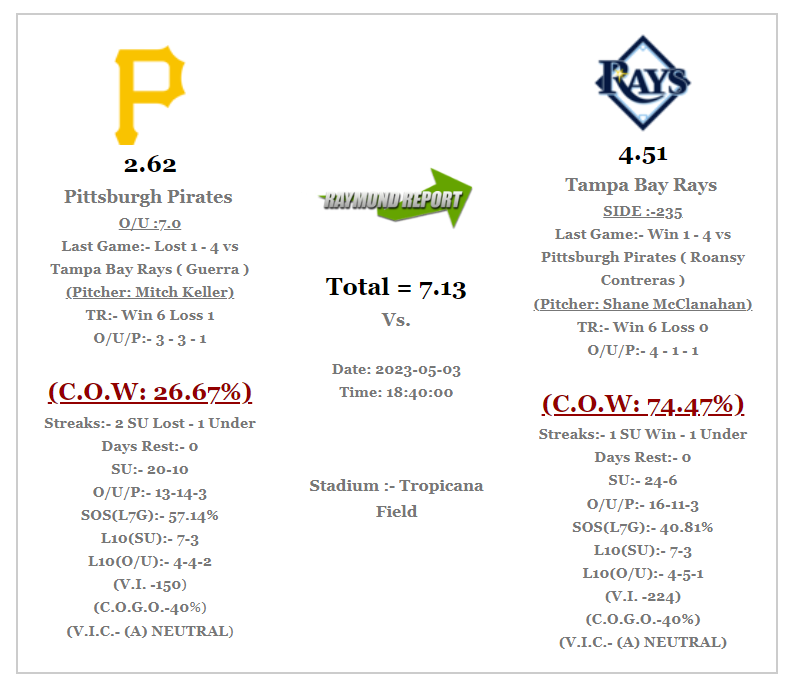 Ron Raymond is a well-known sports handicapper and founder of ATS Stats and The Raymond Report. He has been in the sports betting industry for over two decades and is recognized for his expertise in providing sports handicapping information to bettors around the world. The Raymond Report is a unique resource that provides comprehensive analysis and predictions for a variety of sports, including football, basketball, baseball, hockey, and horse racing. Raymond is also a frequent guest on sports talk shows and podcasts, sharing his insights and advice on how to succeed in sports betting.