Professional Sports Handicapper Ron Raymond of the Raymond Report, releases his top NFL and College Football Premium Picks each weekend in our Premium Picks section.
As of Thursday, October 14th,  going into NFL Week 6 and CFB Week 7, Pro Handicapper of 24 years and author of Ron Raymond's Top 50 Sports Betting Secrets, Ron is 9-3-0 ATS for 75% on the season in the NFL and when you combined that with his mediocre CFB record of 6-6-0 ATS, Ron is hitting 62% with his top Pro and College Football picks this season.
Get Ron Raymond's Premium Picks
Are you interested in getting Ron Raymond's NFL and CFB Premium picks for this weekend? Register for one of Ron's Daily, Weekly or Yearly packages in the premium section.
Ron Raymond's NFL Premium Picks Record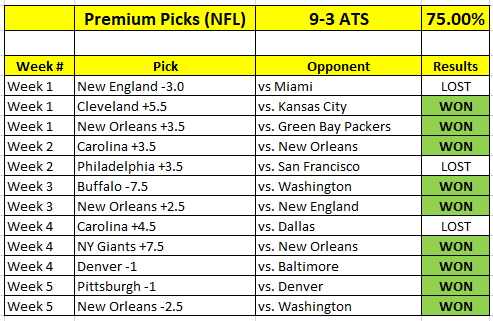 Ron Raymond's CFB Premium Picks Record