The Ottawa Senators will face off against the Calgary Flames in an exciting NHL matchup tonight at the Scotiabank Saddledome.
The Senators come into the game after a loss against the Vancouver Canucks in their last outing. Despite the defeat, the Senators have been in decent form, winning 6 out of their last ten games. They will be looking to bounce back and win against a struggling Flames side.
Meanwhile, the Flames will be looking to turn their fortunes around after a disappointing loss to the Anaheim Ducks in their last game. With a record of 29-37 on the season, the Flames have been struggling to find consistency but will be hoping to use their home advantage to their benefit and secure a much-needed win.
The Senators will look towards their star players, including Brady Tkachuk and Thomas Chabot, to step up and lead the team to a victory. On the other hand, the Flames will rely on their top scorer, Tyler Toffoli, with his 55 points on the year, to fire them to a win and end their recent poor run of form.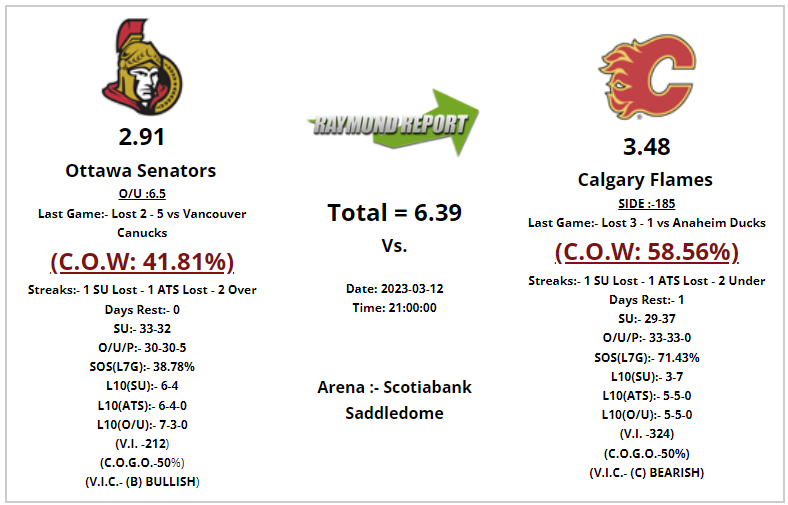 The betting odds for this game suggest that the Flames are the favorites at -190, with the Senators priced at +163 on the money line. The over/under for the game is set at 6.5 goals, which indicates that we could be in for a high-scoring encounter.
In recent form, both teams have been inconsistent, with the Senators going 6-4 SU in their last ten games and the Flames going 3-7 SU in that stretch. However, the Senators have been more successful on the OVER, going 7-3 in their last ten games, compared to the Flames, who have gone 5-5.
Overall, this promises to be a closely contested game between two teams looking to improve their position in the standings. The Senators will be looking to build on their recent form and secure a win on the road and secure a playoff spot, while the Flames hope to use their home advantage and return to winning ways.
Get today's NHL Predictions and Previews using the Free Raymond Report Tipsheet here.