Sports Handicapper Ron Raymond of the Raymond Report will be releasing 30 Sports Betting Tips each day during the Month of July to get you through those "Dog Days of Summer".
Welcome to Tip #26 of 30, as Professional Sports Handicapper Ron Raymond breaks down the UNDERDOG numbers when it comes to betting NFL football over the last 10 years and UNDERDOG in MLB Baseball over the last 3 season and you will be surprised to learn when you should be betting on dogs in the NFL and MLB.
Some Underdog Handicapping Questions?
Can the dogs win straight up or keep it close?
Are the dogs in a bad situational handicapping spot?
Are the dogs a major contrarian play here?
What's the head to head coaching situation?
Does the underdog team have a stud player?
Are injuries a concern?
Will the weather be an issue?
Are they involved in a long losing streak?
MLB UNDERDOGS (L3Y)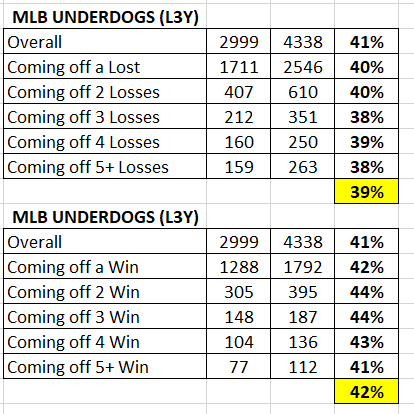 NFL UNDERDOGS (L10Y)