Raymond Report: Sports Betting Tip Sheet System Guide- Sports Handicapper Ron Raymond is a 23-year veteran sports handicapper and the founder of the Raymond Report. Preparation is not building your wings when being thrown off a cliff! If you're looking at being successful in your sports betting investments, you need to do your research and find indicators leading you to make the right decision on your plays.
Sports Handicapping Fundamentals:
A) Line/Price Value ($): When calculating the "Value" of a line or price, we look for the margin of error between the bookmaker's line, the final result of a past game and then produce the value of what the line should be in the next game. (Perception vs. Reality = Value)
B) Percentage Play (%): Every time a team wins or covers (Side or Totals), their chances of repeating that same action decreases, based on the law of average theory.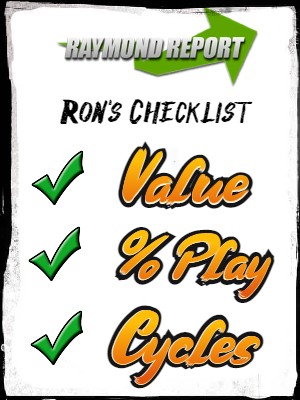 i) Side: (C.O.W – Chance of Winning) & (C.O.C. – Chance of Covering)
ii) Total: (C.O.G.O. – Chance of Going Over)
C) V.I.C. (Vegas Index Cycle): The intangibles of special circumstances. (Letdown factor, Look ahead, Line-moves, Shelf Scouting, Gut Feeling, etc…)
3 Types of Teams (Value Category)
When you look at League Standings, you have two type of teams; Teams above .500 and Teams below .500. However, we see 3 type of teams in the Raymond Report!
3 Types of Teams in the Standings:
Tier 1 Teams (A): 60% or higher (Above Average Teams = High Public Confidence = Low Rewards)
Tier 2 Teams (B): 50% to 59.9% (Average Teams = Moderate Public Confidence = Medium Rewards)
Tier 3 Teams (C): 49.9% or Lower (Below Average Teams = Low Public Confidence = High Rewards)
*Note: Remember, every time a team wins or loses, it affects their classification ranking and allows for another team to go up or down in the standings. When one team goes up in the standings, there's always one team coming down!
Type of Performance Cycles (Percentage Play)
Every team goes through different performance cycles during a season. Bookmakers will use these situations to manipulate the line and use market confidence to their advantage.
3 Types of Performance Cycles: (Market Confidence Levels)
MLB, NHL & NBA CYCLE:
Bullish Cycle =Team is either (7-0, 6-1, or 5-2) Last 7 games.
Neutral Cycle =Team is either (3-4 or 4-3) Last 7 games.
Bearish Cycle =Team is either (0-7, 1-6 or 2-5) Last 7 games.
NFL, CFB & CFL CYCLE:
Bullish Cycle =Team is (3-0) Last 3 games.
Neutral Cycle =Team is either (1-2 or 2-3) Last 3 games.
Bearish Cycle =Team is (0-3) Last 3 games.
*Note: Depending on the type of team and their current performance cycle, will affect their percentage play in their next game.
Situational Handicapping (V.I.C)
Every team has an "BEFORE" and "AFTER" situational game factor which leads to conditional situations that could work for or against teams.
V.I.C. Examples:
Streaks
Division Play
Letdown Factors
Look Ahead Factors
Late Line-moves
Underdog Roles
Favorite Roles
Injuries
Shelf Scouting
Gut Feeling
Conclusion: In order to be successful at sports betting, you need to find indicators that leads you to have confidence in your final decision. At the end of the day, the only thing you control is the confidence you have in your research and evaluation system.