Sports Handicapper Ron Raymond of the Raymond Report will be releasing 30 Sports Betting Tips each day during the Month of July to get you through those "Dog Days of Summer". Welcome to Tip #6 of 30, as Ron follows the advice of hall of fame football coach Bill Parcells and that's not bet on bad times, because nothing good comes out of it!

"You Are What Your Record Says You Are" – Bill Parcells
It's a quote by former NFL head coach Bill Parcells that says, "You are what your record says you are." The point is that you can't reason distance between you and what you accomplish (or don't accomplish.) Results speak for themselves. The rest of the speaking we do is generally everything else. Bill Parcells – Feb. 28, 2012
Raymond Report – Types of Teams
When you look at League Standings, you have two type of teams; Teams above .500 and Teams below .500. However, we see 3 type of teams in the Raymond Report!
3 Types of Teams in the Standings:
Tier 1 Teams (A): 60% or higher (Above Average Teams = High Public Confidence = Low Rewards)
Tier 2 Teams (B): 50% to 59.9% (Average Teams = Moderate Public Confidence = Medium Rewards)
Tier 3 Teams (C): 49.9% or Lower (Below Average Teams = Low Public Confidence = High Rewards)
*Note: Remember, every time a team wins or loses, it affects their classification ranking and allows for another team to go up or down in the standings. When one team goes up in the standings, there's always one team coming down!
TEAM (A) – 5 of 30 (16% of the League)

TEAM (B) – 11 of 30 (36% of the League)

TEAM (C) – 13 of 30 (43% of the League)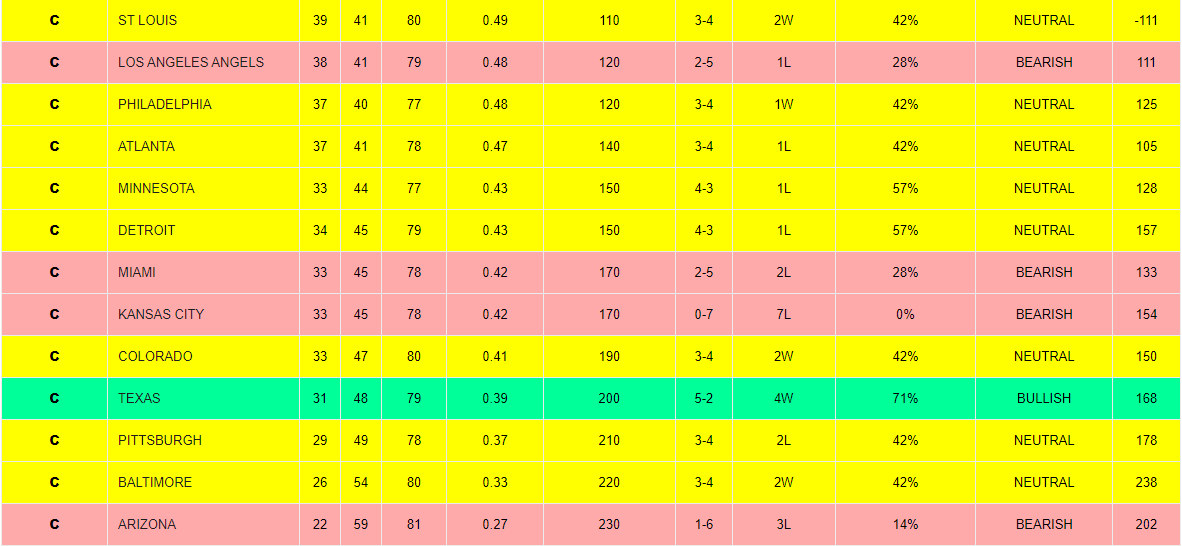 About Professional Sports Handicapper Ron Raymond
Ron Raymond is a veteran sports handicapper going into his 24th season and is recognized as a pioneer in the online sports handicapping industry. In 2009, Ron Raymond wrote a book called "Ron Raymond's 50 Greatest Sports Betting Secrets" and it is now listed on Amazon. Plus, Ron Raymond is the owner and founder of the World Series of Handicapping© Pro Football Contest going into its 9th season.
Follow Ron Raymond on social media: