Here's the Raymond Report explained in 5 minutes!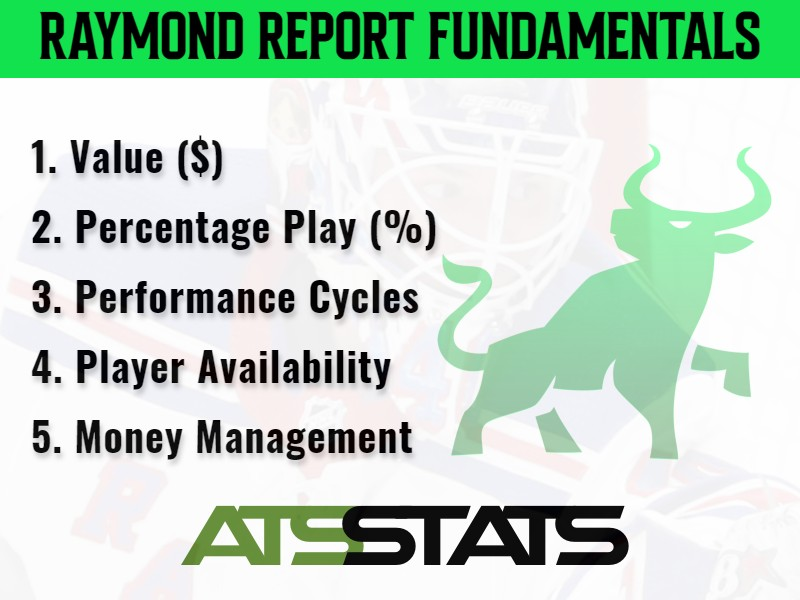 What Type of Investor Are You?
a) Instant Gratification Investors (Short Term) – These investors tend to lose 75% of their initial funds within the first 30 days!
b) Savvy Investors (Long Term) – They play for the long haul, carefully selecting their investment opportunities!
*Note: For understanding the difference between these two investor types, consider watching the linked video.
*Note: Watch this video to know the difference between both type of investors.
Shop for Value – Play the Percentages (2 Key Principles)
Two Crucial Principles from the Raymond Report for Sports Bettors:
Line Price to Determine Value (Shop for Value ($): This is about understanding the odds or prices set by the bookmaker. It's essential to identify value in these odds. Value doesn't necessarily mean going for the lowest price, but understanding the price-to-potential-win ratio. The right bet is the one that offers the highest return on investment, balancing the risk and potential reward.
Team's Winning Percentage (Play the Percentages (%)): This rule highlights the importance of evaluating a team's success rate. It's not simply about who won the last game, but the overall consistency of a team's performance. The higher the team's win rate, the more reliable they could be in your betting strategy.
*For instance: While bettors prefer top-notch teams at a minimal price, you can't purchase premium stocks like Apple or Tesla for a meagre $5! The quality of the team you're betting on comes at a price, which makes strategic betting crucial.
The 5 Golden Rules of the Raymond Report
1st Rule: The Sportsbooks are not your friends!
2nd Rule: Less is More!
3rd Rule: Understand the A (60%+), B (50%-59.9%) and C (49.9% or Lower) Type teams in leagues!
Consider Placing Bets Predominantly on (A & B) Category Teams as per the Raymond Report. When it comes to C-type teams, those with a win record of 50% or less, don't outright dismiss them. Instead, exercise thorough due diligence before betting on these underdogs. It's generally more favorable to consider these teams when they're playing on their home ground.
Team Categories – Analyzing League Standings reveals three types of teams.
First Tier Teams (A): Winning 60% or more of the time (Above Average Teams = High Public Confidence = Lower Returns)
Second Tier Teams (B): Winning between 50% and 59.9% of the time (Average Teams = Moderate Public Confidence = Medium Returns)
Third Tier Teams (C): Winning less than 49.9% of the time (Below Average Teams = Low Public Confidence = Higher Returns)
4th Rule: Avoid Betting on Teams in a Bearish Cycle (0-7, 1-6 or 2-5) L7G
Again, Consider Wagering Predominantly on Teams in a Positive or Stable Cycle. When contemplating betting on teams in a negative cycle (Bearish), be fully aware of the associated risks. These bets can be particularly hazardous for away games, so proceed with caution and informed judgment.
VI (Value Index) – The Value Index reflects the betting public's current mindset, based on a team's 7-game cycle.
UPWARD TREND (Bullish) = Team's last 7 games record is (7-0, 6-1, or 5-2).
STABLE TREND (Neutral) = Team's last 7 games record is (3-4 or 4-3).
DOWNWARD TREND (Bearish) = Team's last 7 games record is (0-7, 1-6 or 2-5).
5th Rule: Maintain Disciplined Money Management System (See Chart Below).
*Tip: Treat a $5 bet like a $500 bet when it comes to your mindset.
So, What are the Odds?
The "Percentage Play" Illustrates a Clear Picture of a team's performance trends and potential, serving as a reliable indicator for informed betting decisions.
A team's record is a perfect portrayal of its performance!
As quoted by former New York Giants Head Coach Bill Parcells; "You Are What Your Record Says You Are!"
Ron's Top 10 Sports Betting Tips
Sports betting expert Ron Raymond, along with the Raymond Report Sports Betting Podcast team, have shared their Top 10 Golden Rules of Sports Betting.
1. Avoid Betting on C-Type Teams in the Raymond Report! (If you do, pick your spots!)
2. Buying that Geico Insurance: Try to Bet The Money Line if it's manageable, or Take the Points, or Bet the Over/Under
3. Do not Wager on Baseball Double Header Games (Too Much Going on that Day to Handicap)
4. Follow a Strict Money Management System (See Charts Below)
5. Never force a Bet for the Sake of Playing! (Bet with Your Wallet, not your Heart)
6. Bet rationally, not emotionally! Make informed and researched decisions!
7. Your Trying to Beat the Bookmakers Number, not a Certain Team! Make Your Own Numbers!
8. Avoid Betting Against A-Type Teams in an Upward Trend at Home! (Know the 4 Betting Roles Percentages)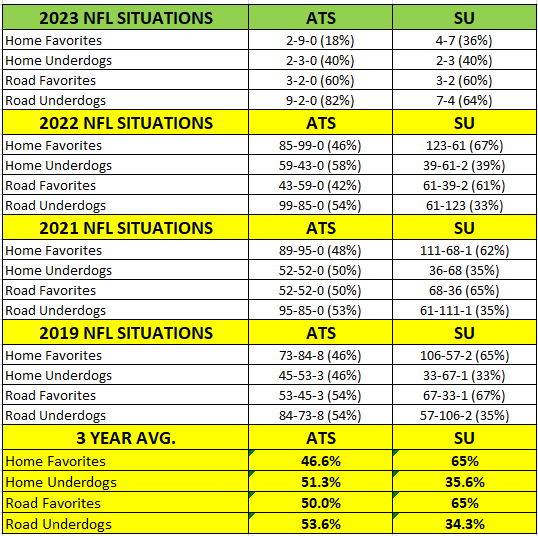 9. Apply the 24-Hour Rule of Betting – Rest a Day After a Major Win! (Ron's Book)

10. Avoid Wagering on Teams in a BEARISH Cycle; Let them Work out their Losing Streak!
Raymond Report Money Management Chart
Using Ron's money management chart below, once you've decided on a team to wager on, use the following formula to determine the amounts of units to bet on that game.
Formula: Type of Team + Home/Away + Cycle = Bet Unit

Example: Columbus Blue Jackets (B Type Team) at (Home) in a (Neutral Cycle) would result in a 4 unit wager.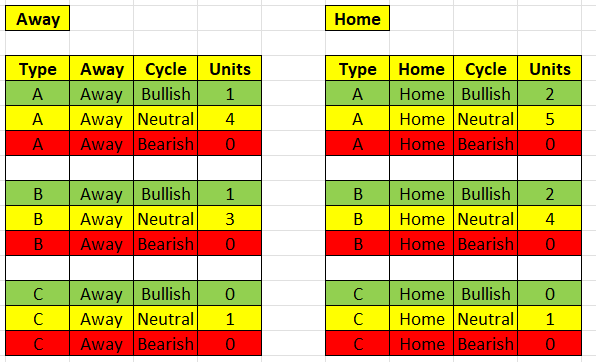 $5 Beer & Pizza Money Bettor in 1 Weekend (3 Days)
40% Winner = $-15.00
50% Winner = $-5.00
55% Winner = $5.50
60% Winner = $16.00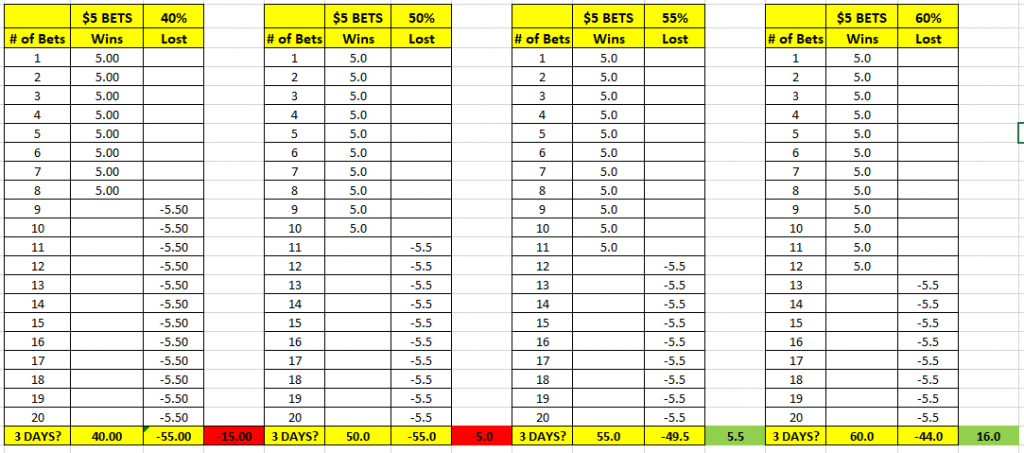 $10 Beer & Pizza Money Bettor in 1 Weekend (3 Days)
40% Winner = $-30.00
50% Winner = $-10.00
55% Winner = $11.00
60% Winner = $32.00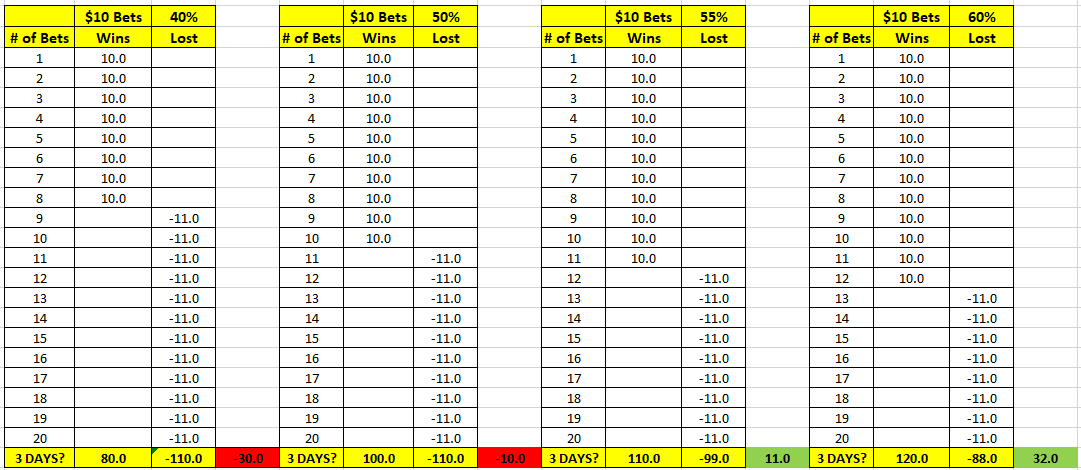 $25 Beer & Pizza Money Bettor in 1 Weekend (3 Days)
40% Winner = $-75.00
50% Winner = $-25.00
55% Winner = $50.00
60% Winner = $100.00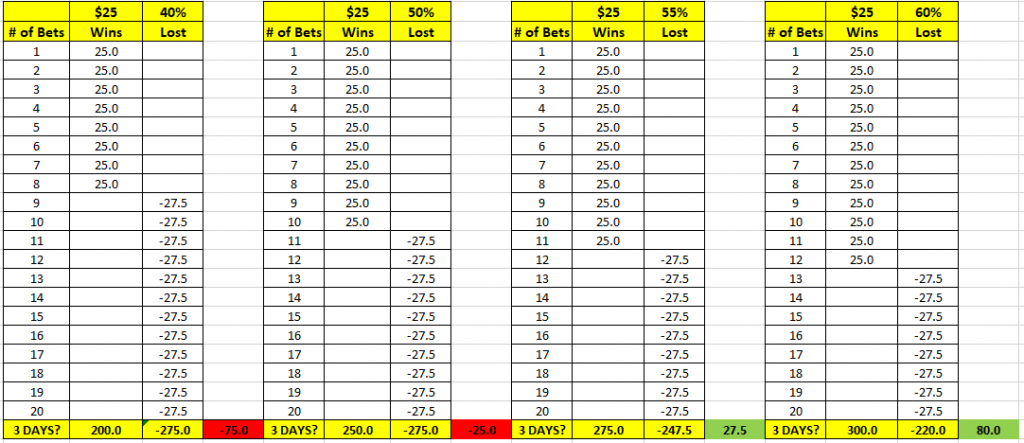 $50 Beer & Pizza Money Bettor in 1 Weekend (3 Days)
40% Winner = $-150.00
50% Winner = $-50.00
55% Winner = $55.00
60% Winner = $160.00